Things to Do in Gwinnett
If you are interested in making the most of your time in Gwinnett, you're in luck because there is a lot on offer. Whether you're in the mood for the arts, a bit of history, live music, or the great outdoors, you can find what you are looking for in Gwinnett. And if you have kids to entertain, you've also come to the right place. 
While Gwinnett is a great place to visit and live, accidents do happen, and they can result in serious injuries to you or your loved ones. If you've been injured as a result of someone else's negligence, an experienced Gwinnett personal injury attorney can help assess your legal rights and options.
BAPS Shri Swaminarayan Mandir
The BAPS Shri Swaminarayan Mandir is the largest Hindu temple in the United States, and the exotic architecture is not to be missed. The temple is made of Turkish limestone, Indian pink sandstone, and Italian marble, and it incorporates 34,000 hand-carved pieces that were shipped from India. The Mandir offers intricately etched carvings that share Hindu tales of inspiration and devotion. One and all are also invited to participate in a traditional Hindu ritual. It is important to keep in mind, however, that there is a dress code at the temple that requires visitors to give all the following a pass:
Shorts

Dresses or skirts that don't cover the knee

Sleeveless tops 

Tank tops.
Gwinnett History Museum and Lawrenceville Female Seminary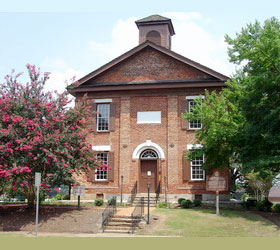 This history museum and female seminary combination is housed in what was originally a finishing school for young women and has stories to tell about Atlanta in the early 1800s.
Atlanta International Night Market
The Atlanta International Night Market is on a mission that includes building a more inclusive Atlanta by staging festive multicultural experiences and educational programs that celebrate, build connections among, and advance the city's diverse communities. Toward this end, its offerings include:
Cuisines that represent the 100 international communities in the metro region and beyond

Cultural performances and art that highlights diverse heritages

Live music and dance that spans cultures and tastes 
Treetop Quest Gwinnett
Treetop Quest Gwinnett is billed as a hidden gem, and it is prepared to exceed your expectations. Treetop Quest is an aerial adventure park that allows adults and children alike to maneuver from tree to tree via a series of obstacles and zip lines. First, you'll be suited up with the equipment you need and provided with operation instructions, and from here, you can swing through the courses independently and at your own rate. The obstacle courses include:
The Chick Pea Course, which is designed for the 4 to 6-year-old set 

Levels 1 through 3, which advance in difficulty and are designed for those who are at least 7 years old 

Level 4, which is a more difficult course that you must be at least 12 years old to attempt

Level 5, which is for anyone who is at least 12 years old and is up to the ultimate challenge
The Gwinnett County Fair
The Gwinnett County Fair runs from September 15 to September 25, and they have something for everyone, including:
Food Truck and Vendor Fest

Southeast Exotic Bird Fair

A gun show for collectors and hunting enthusiasts

King BMX Stunt Show

Victoria Circus
Japan Fest
Japan Fest, which runs from September 17 to September 18 this year, promises that you can experience the rich culture of Japan without leaving Gwinnett to do it. Some of the highlights include:
Japanese shops

Anime Village and Cosplay Contest

Japanese food and sake vendors

Outdoor beer garden  

Activities for the kids 

Martial arts performances

Japanese businesses in Georgia (JBiG)
The 39th Annual Duluth Fall Festival
The Duluth Fall Festival draws upwards of 100,000 visitors each year, and this year it runs from September 24 to 25. All the profits and proceeds of this immense undertaking are used for the beautification and improvement of Duluth's historic downtown. In 2019, the Duluth Fall Festival earned pride of place as the Best Fall Festival in the U.S., and some of the enticements you can expect to find this year include:
The kickoff concert on September 10 featuring The Rupert's Orchestra

The festival parade and opening ceremonies

The Donut Dash 5K Race

Carnival rides

Two days of continuous family-friendly events

Worship on the Town Green
Museums 
If museums are what you are looking for, Gwinnett is here for you. Each of the following is a great place to while away a few hours, an afternoon, or a day soaking in the diverse offerings:
The Chick-fil-A College Football Hall of Fame is a massive interactive and immersive attraction that begins with a wall of football helmets from every team in the country and ramps up from there. You can even personalize the experience to your favorite team.

The Hudgens Center for the Arts channels the language of art to offer its guest enticing exhibits, classes, and events.

The Gwinnett Environmental & Heritage Center offers 233 wooded acres of wonderment where you can explore educational exhibits both inside and out, including five miles of walking trails, a wooded pavilion for picnics, and the historic Chesser-Williams House – for a peek back in time.

The Southeastern Railway Museum is Georgia's Official Transportation History Museum, and it has the largest collection of trains, cars, and buses in the state – in addition to an expansive railroad memorabilia collection.  
Turn to an Experienced Gwinnett Personal Injury Attorney for the Help You Need
Gwinnett is a beautiful destination that is sure to please, but if you are injured by someone else's negligence, obtaining the compensation to which you are entitled can play a critical role in your ability to fully recover.
The seasoned personal injury attorneys at Spaulding Injury Law in Gwinnett, Georgia, understand how difficult your situation is and dedicate their impressive practice to helping clients like you prevail with favorable claim resolutions. We're on your side, so please don't wait to contact us online or call us at 770-744-0890 today.